Till the world comes to Canada and Vancouver more specifically. Yesterday we made one of our quarterly-ish visits back 'home' to Vancouver to top up my supply of Shreddies and Alberta steaks...as you do...and decided to put my birthday present from my Nanny to good use by swinging through The Bay to get ready for my preferred Olympic sport - armchair obnoxious fingernail-biting fan!
In order to partake in this particular Olympic sport, one must first be kitted out in highly fashionable and super cool clothes:
Thanks Nan!!!!
And if The Bay hadn't run out of these, I would totally gotten this too...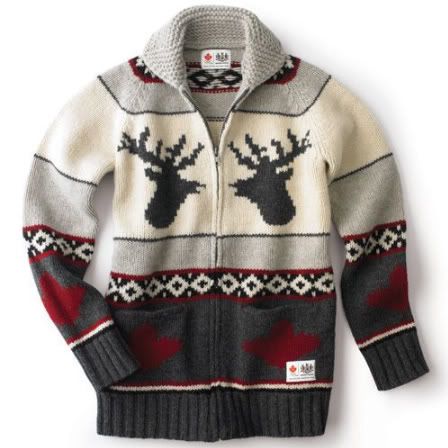 Aaaannnnddddd, if I had seen these, I would have to snapped these up too! WICKED!
Aaaaaannnnnnnddddddd, as I type this I'm watching the Colbert Report and Monsieur Colbert just announced that his show and the 'Colbert Nation' aka his legion of fans will be sponsoring the US Olympic speed skating team! Awesome! What happened to get a Comedy Central show to sponsor a Olympic team? Well the Dutch bank, DSB, went under yesterday. There was a run on the bank as well as truck loads of bad debt and voilà, the bank, which was the American speed skating team's sponsor was no more. So tonight, moments ago, Stephen Colbert stepped up and the speed skating team will now (hopefully) have all the money they need to make it to and through the Olympics! I'm going follow this story and therefore, so are you!
Lastly and more Canadiana propaganda (!), The Telegraph (London) has named Montreal as the second happiest place live in the world! Tabarnouche!!! I really like MTL, we have often gone there for shopping, weekends away, enroute to family in Odanak and for the reason that the newspapers vote of confidence, the very awesome Just for Laughs festival! Mike and I also went there the day after our wedding for a very mini honeymoon. Next time anyone's in Montreal, you need to stop by Reuben's for a smoked meat sandwich and Pier Gabriel for amazing French food!
Félicitation!!!