Before I start with the last installment of our trip home, I just have to brag about the meal Mike made me last night for our anniversary! The boy did good! For dinner he prepared swordfish with a champagne and grape sauce! What kind of sauce is that you say? It's the ridiculously good kind!!! The sauce consisted of champagne, butter, thyme, dried mustard, fish stock, capers and sliced grapes. The fish stock, mustard and thyme were cooked together first and allowed to reduce by half, then the fish, champagne and capers were added and once the fish had been cooked through, the butter and grapes were thrown into the pan and it was moved from the burner. It was delish!!! And I think this is a sauce that could be nicely paired with a roasted chicken because swordfish doesn't have a fishy taste to it but does have a very meaty flavour and consistency. Anyways, it was a great meal and I really appreciated his efforts!

So, back to Bytown! Part of the reason for our visit home was to witness my baby cousin Shawn getting married to the lovely and fun Miz Chrissy. I can remember Shawn as a newborn – my first memory of him was watching him getting his diaper changed and he still had the remnants of his umbilical cord. But I digress, on August 22nd Shawn and Chrissy wed to the delight of their family and friends! The wedding was a lot of fun and Shawn & Chrissy both looked fabulous as did their wedding party!

Their vows, with my super zoom on so the image is a bit hazy



I stayed for their photos to drive them and their truck back to the reception - as you can see a storm was rolling in. This is Shawn and Chrissy with their maid of honour and best man - Sarah & Simon.





A few days after the wedding and the day before we flew back here, we went up to my Uncle Danny's cottage on Lac Leslie. The lac/lake is about an hour and half drive from Ottawa on the Québec side of the river and is a really pretty and peaceful place. Danny and Sally's cottage is located in a cute little bay and the lake itself was named one of the top 5 cleanest lakes in Québec in 2008. It was great to be able to spend time with my parents, sister, uncles and aunt! And yet again, Moose had a whole new set of adventures – it turns out he's a boater – he loved being on my uncle's pontoon. I can't wait to get back up there next year!
The amazing brother and sister duo of Jake & Jersey! My uncles 2 year old golden retrievers
Kisses in the mud
Even though Moose doesn't seem to care for the water, he proved he could swim
The amazing duo amazingly spend hours fishing every day as evidenced by these photos. They walk for hours in the shallow water looking for fish. Their attention span and focus is pretty cool.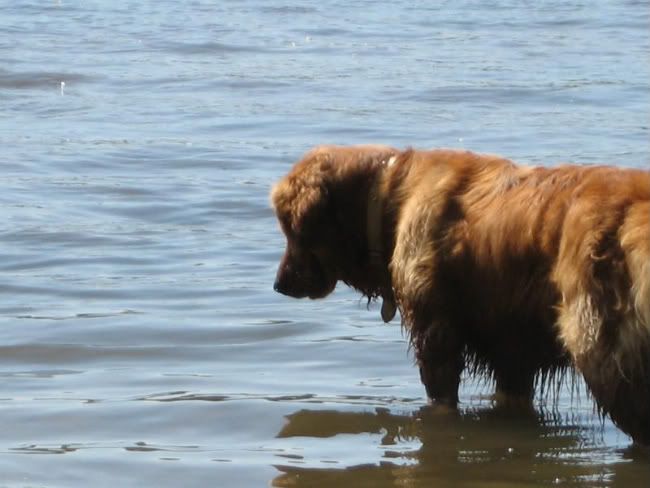 Out on the pontoon - I swear my parents have eyes and not just sun glasses as place holders!
Beth & Moose riding the waves
Captain Dan, Uncle Garry and Sally
My dog boats...seriously, its like he lives the high life everyday or something...
Nessie of Lac Leslie and her accompanying boat mark some of the shallower and rocky patches in the lake