As mentioned on Tuesday Mike and I joined Tracy & Alberto at the Seattle Sounders game against Barcelona and even though the Sounders lost (no surprise), it was a lot of fun!

I got to see my two (imaginary) boyfriends:

Freddie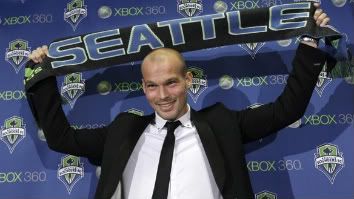 and Thierry
And although Alberto had to work the game – he translates the games to Spanish and now hosts a Sounders show on Sunday nights on Univision (yep, I hang with celebs) – Tracy, Mike & I had a great time taking it all in. Qwest Field was over capacity at 66,800 in attendance and the Sounders Club I thought did a really nice job of making you feel like you were at a match in Europe - their announcer is English and when Barcelona scored, a Spanish speaking announcer can over the PA and only spoke in Spanish. Small details but important ones I think.

The following are some photos from the game including shots of downtown Seattle and Puget Sound from the stadium.

Tracy & Mike outside Qwest Field

My first ever shower of ticker-tape (like I said, its the small things like this that I love!)
Pre-anthem
- what was Barcelona wearing? The hideous cross-walk-guard neon orange did no one favours!
Tracy & Alberto - whose that guy in the dodgy England shirt???!!! Lee...

Qwest Field full up with Sounder's love

Tracy & I looking fabulously coordinated with the pitch and the crowd!

Over here! I'm over here!!!!!!!
Seattle at sundown
As for this weekend's entertainment…house cleaning and preparing for our 12 day visit home!!!!!!!! YAY!!!!!!!!!!!! We leave next Saturday morning for a long over due visit home to Ottawa (I haven't been home since April 2008) and wee Moose is coming with us. This will be his first ever plane ride and depending on how he copes, either it will be the first of many or the last! So, this weekend will be filled with cleaning, organizing, laundry, and shopping. What fun.
Bon Weekend!